Introduction
India is one of the most travelled to nations in the world because of its abundant culture, food, tradition, and elegance. It's possible that finding affordable lodging in each location may be a challenging and time-consuming endeavor. It would help if you had a romantic location and a romantic spot to form memories that will last a lifetime to start a path toward closeness and connection with another person. These top 5 resorts with private pools in India offer the winning recipe for a romantic honeymoon stay with their warm and comfortable decors, private pools, romantic meals, and spectacular vistas.
Mihir Garh Resort Rajasthan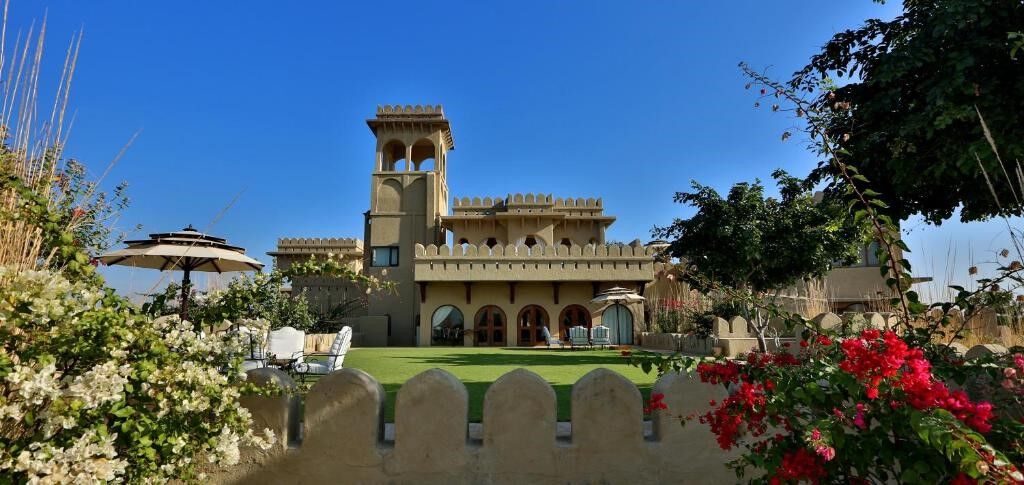 Mihir Garh is a hotel in Jodhpur with a restaurant, a bar, and free WiFi. It is located 53 kilometres from the Mehrangarh Fort. In addition to providing guests with a restaurant that offers meals and views of the hotel's garden, the property also has a B.B.Q. Area. On-site parking in a private lot is provided for free and is available at the location in question.
Each suite has up-to-date conveniences such as a television, DVD player, coffee maker, and minibar to provide guests with the utmost luxury. Some suites have a separate balcony or patio and an open-air bathroom. Each room has a hand-crafted fireplace made by women from the local villages to complement the traditional design of the room.
The resort with private pool has a front desk staffed around the clock, a communal lounge, and shops. Every visitor receives a complimentary jeep safari as part of their stay.
This hotel offers bike rentals, and the surrounding region is well known for its opportunities to go horseback riding. The hotel also provides a vehicle rental service. Mihir Garh is located 186 kilometres from Khichan Bird Sanctuary, while Umaid Bhawan Palace Museum is about 50 kilometres from the property. The distance to Jodhpur Airport is 49 kilometres.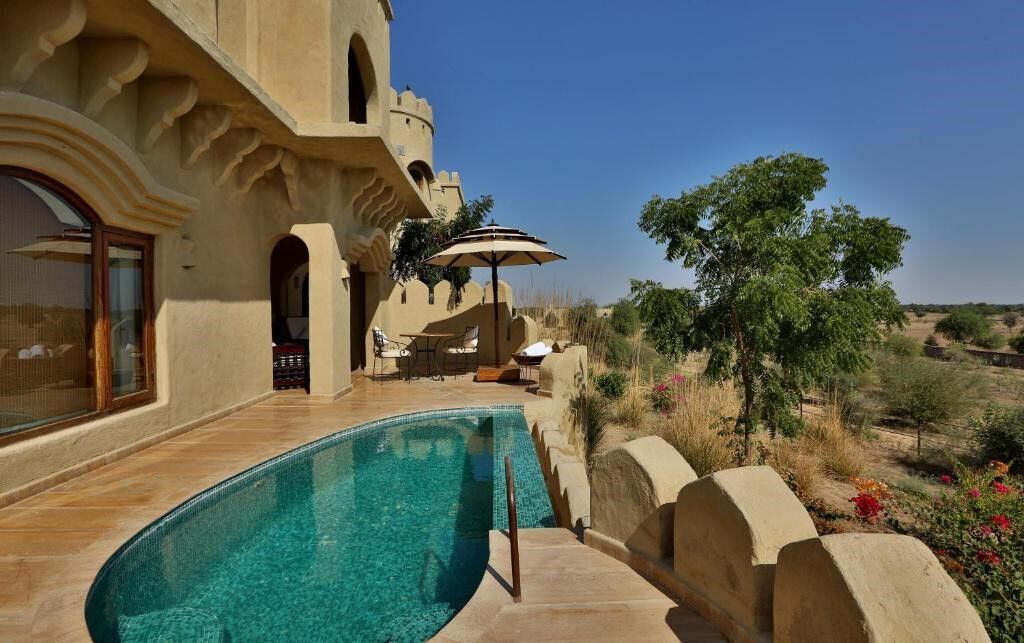 This fort has nine lovely apartments available for guests. Each one is almost 1700 square feet of opulent space to enjoy. Redefining the meaning of the term "indulgence" are the private Jacuzzi or plunge pools with each apartment. Intimacy may be experienced with oneself and another person in several alcoves, salons, or communal spaces, all of which boast wonderful views. Each of the nine suites at the boutique hotel Mihir Garh provides more than 1700 square feet of space dedicated to your utmost comfort and relaxation. It's almost as if the private patios, courtyards, plunge pools, and Jacuzzi are all trying to tell you one thing: Indulge. You will find that the tranquilly and splendour of this location combine to produce an experience for you. At the same time as the exotic cocktails from your minibar become the manna for a steamy summer day, the fireplace transforms into an intimate buddy during the winter evenings. You may relax and refresh by the poolside while watching the infinite desert meld with the horizon, or you can indulge yourself with one of the many treatments offered at the Spa located inside Mihir Garh. The mouthwatering cuisines, which range from traditional to continental, are also designed to be pleasing to various palates. The most stunning Thar Wilderness view can be from the infinity edge pool at Mihir Garh. The breathtaking views from the treetops, which gaze out over the huge expanse of the countryside, are best appreciated with a refreshing beverage.
Important Information & Links
Contact information:- 0124 465 4330
Address:- C/O Rohet House, P.W.D. road, Jodhpur, Rajasthan – India.
Website:- http://www.houseofrohet.com/mihir-garh.html
Link for TripAdvisor:- https://www.tripadvisor.in/Hotel_Review-g19357813-d1599899-Reviews-Mihir_Garh-Khandi_Pali_District_Rajasthan.html
Pepper Trail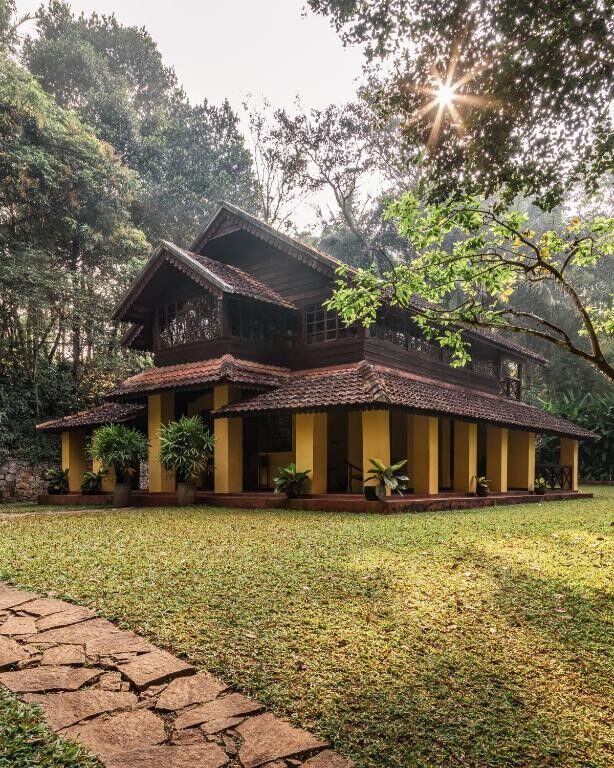 Pepper Trail is a coffee and spice farm that spans 200 acres and has accommodations such as tree homes, historical suites, and pool villas. The facility has a free WiFi connection, air conditioning, and a 20-meter outdoor pool with an infinity edge. Guests may enjoy the on-site restaurant. Various free activities, including guided plantation walks, open jeep safaris, cycling, fishing, canoeing, and coracle rides, are available in the surrounding region. The Sultan battery is 10 kilometres away, while the Edakkal Caves may be reached after travelling 15 kilometres. The Wayanad Wildlife Sanctuary may be reached by travelling 20 kilometres away from the Pepper Trail Wayanad. The distance to the Calicut International Airport is 95 kilometres.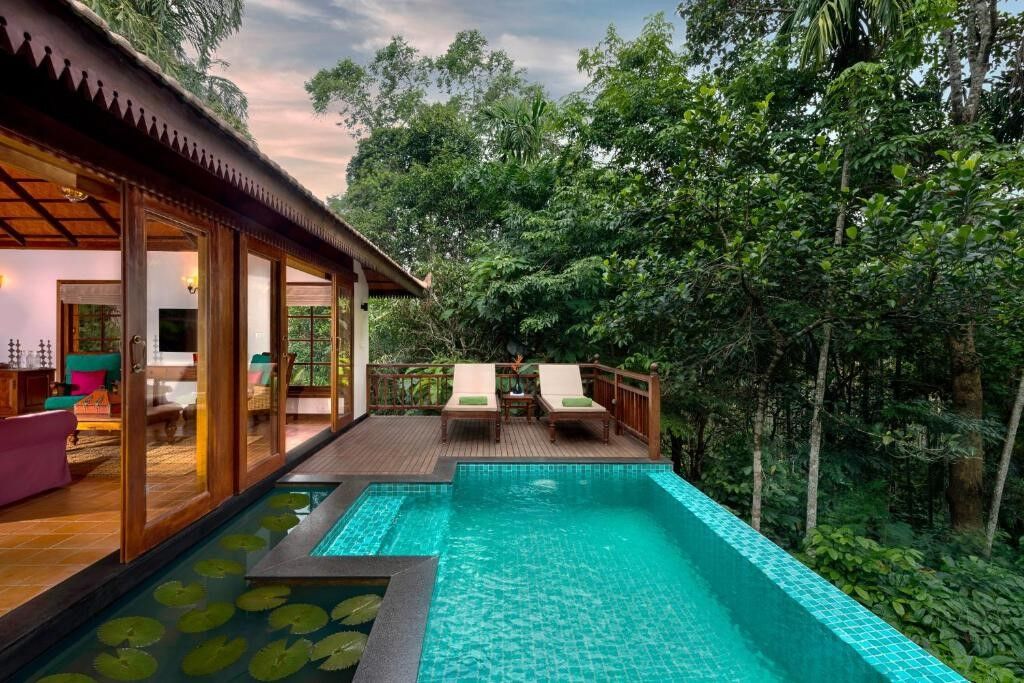 It offers exceptional accommodations, a wonderful resort with private pool rooms! Right next to the swimming pool is a little aquarium with fish and monkeys who climb about on the trees. Rooms that are large, comfy, and have beautiful bathrooms that include bathtubs and are quite well furnished!! Both the room and the service are wonderful. The pool is heated, so using it is a wonderful option even if the weather is less than ideal.
Important Information & Links
Contact information:- +91 95 62 277 000
Address:- Mangalam Carp Estate
Chulliyode, Sulthan Bathery
Wayanad, Kerala 673 592, India.
Website:- www.peppertrail.in
Link for tripadvisor:- https://www.tripadvisor.in/Hotel_Review-g1439834-d7591762-Reviews-Pepper_Trail-Sulthan_Bathery_Wayanad_District_Kerala.html
Evolve Back Hampi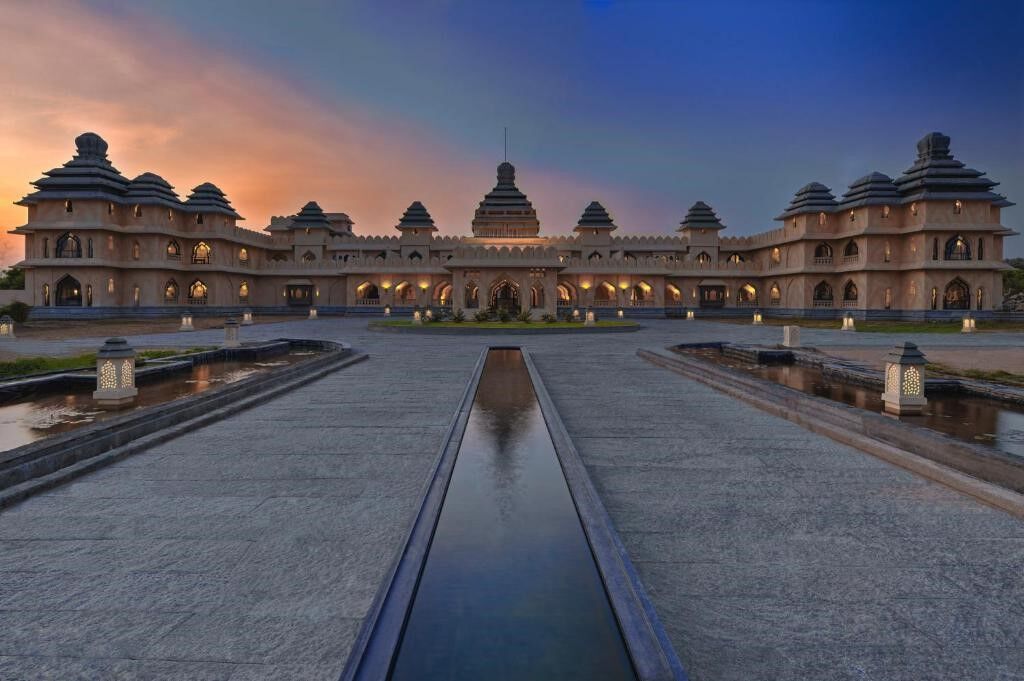 The UNESCO World Heritage Site of Hampi is about 4 kilometres away from the property known as Evolve Back Hampi, which has a spa centre and a hot pool. The architectural splendour and elegance of the Vijayanagara Empire inspired Evolve Back Hampi's design. The resort has all the enchantments of a bygone age, such as gates that seem like they belong to a fort, stone-paved boulevards, arched halls, and royal rooms.
Each room has a television with a modern flat-screen design. A sitting space is provided in several of the rooms for your comfort. A balcony or patio is available in some of the accommodations. Each room has its private bathroom, and some even have bathtubs. You will find robes and slippers in the bathroom for your convenience. Free WiFi is available at Evolve Back Hampi. It is one of the best hotels in Hampi.
The resort can make arrangements for historical strolls. The facility has a gift store and a front desk open around the clock.
The resort is 29 kilometres from Hampi, the closest airport.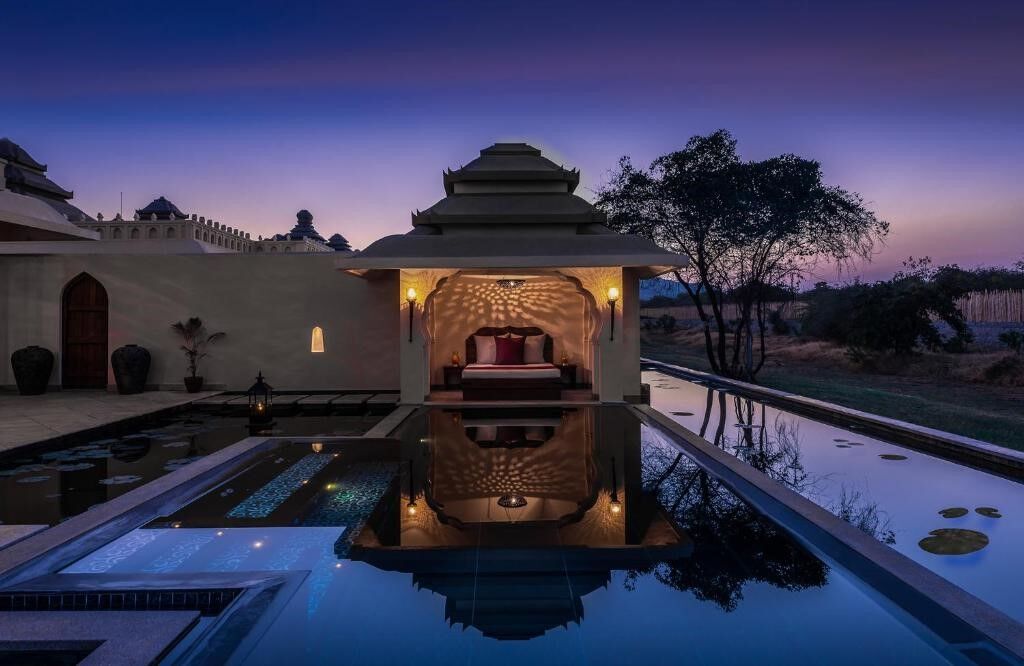 A refreshing experience awaits those people who are 18 years old and older who swim in the private pool. The aqueduct-fed Pushkarni or temple tanks of the Vijayanagara Empire inspired the construction of this almost Olympic-sized pool that overlooks the boulder-strewn environment that is distinctive of Hampi. This pool also serves as a refuge of peace. Take a refreshing break from the heat by submerging yourself in the private pool, which has crystal-clear waters. The pool is a wonderful place for you and your family to lay about together.
Important Information & Links
Contact information:- +91 63 6692 0434
Address:- P.K. Halli Road Hallikeri Village, Kamalapur 583221 India
Website:- https://www.evolveback.com/hampi/
link for tripadvisor:- https://www.tripadvisor.in/Hotel_Review-g1949768-d10228448-Reviews-Evolve_Back_Hampi-Kamalapur_Bellary_District_Karnataka.html
Taj Exotica Resort Goa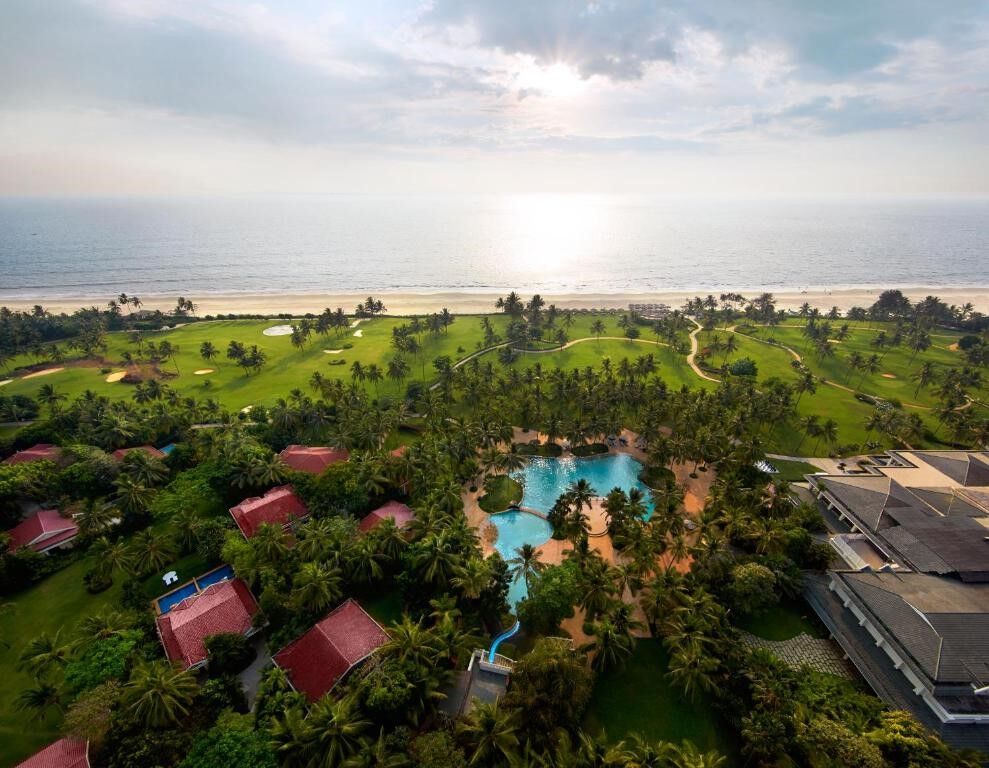 The Taj Exotica Resort & Spa, Goa, designed in the Mediterranean style and had 56 acres of beautiful gardens, is located along a private beach with views of the Arabian Sea. It provides visitors with access to golfing facilities, a complete spa, an outdoor pool, and six different eating choices.
The rooms include traditional dark wood furniture and are decorated in neutral tones. Each one has a balcony with a view of the garden, the pool, or the sea. A few rooms have a private pool or a bathtub with a hydromassage feature. It also offers Pool villa.
The Taj Exotica Resort & Spa, Goa, is 12 kilometres from Madgaon City and 3 kilometres from Colva Beach. The Goa Dabolim Airport may be reached in a little over half an hour by car. There is parking accessible at no cost.
Playing tennis or having a massage at The Jiva Spa is a great way to spend the afternoons when the sun is shining. The resort also has a fitness centre and room service available around the clock. The Children's Activity Centre provides a variety of fun activities for children to participate in. It is one of the best resorts in Goa.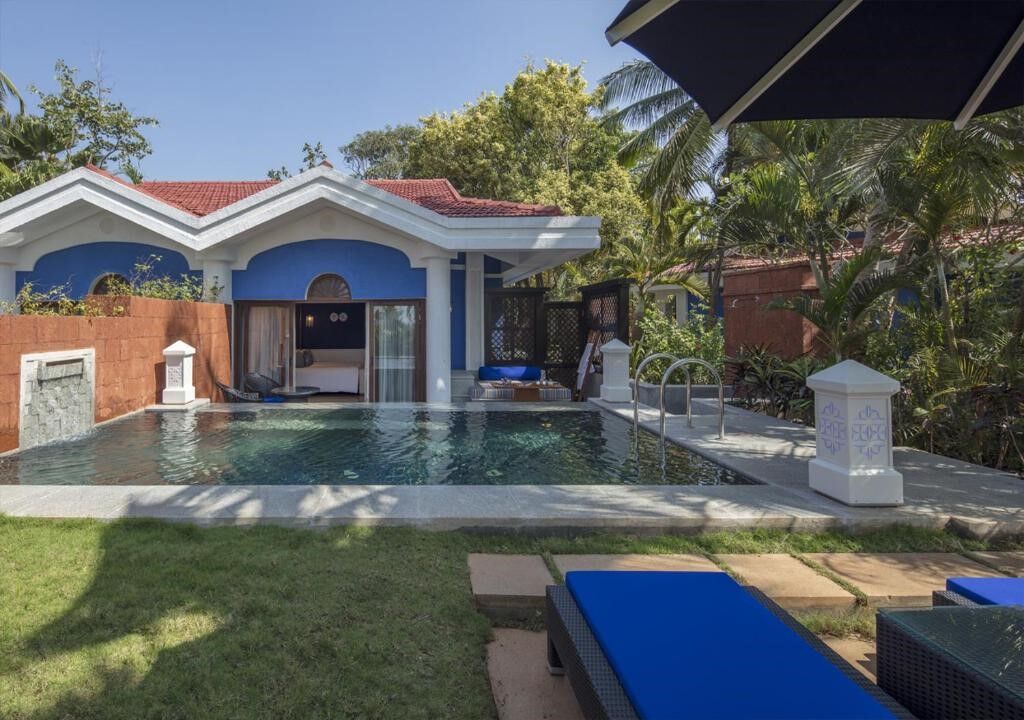 These opulent rooms with a view of the garden are located in villas with two separate units. Every room in the villa has its private plunge pool. The traditional Taj hospitality guarantees your amazing vacation in addition to contemporary conveniences. "Available with a king or two twin beds in the layout." The Indulgence Villa Rooms are located in a two-room apartment with a plunge pool and give views of the surrounding gardens. Their sit-outs provide the most romantic experience possible, making them ideal for lengthy chats while enjoying a glass of wine.
Important Information & Links
Contact information:- 1-800-111-825
Address:- Benaulim Beach, 403716 Benaulim, India
Website:- https://www.tajhotels.com/en-in/taj/taj-exotica-goa/
link for tripadvisor:- https://www.tripadvisor.in/Hotel_Review-g306994-d477574-Reviews-Taj_Exotica_Resort_Spa_Goa-Benaulim_Salcette_South_Goa_District_Goa.html
Morickap Resort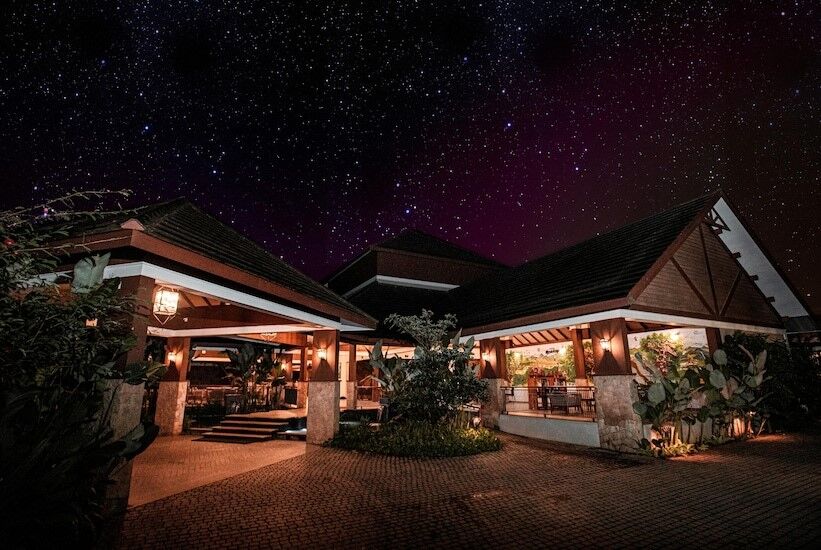 This 34-room resort is a haven of luxury, designed to pamper you in every way – with plush interiors, multi-flavour dining, one of the largest pools in Wayanad, an Activity Center, a Kid's play area, and restorative treatments at the Spa, a paradise in every season of the year. The Morickap Resort is a 5-star luxury offering livening up this lovely area known as Wayanad. If you are looking for peace, there is no need to search any further. A world-class resort that captures the beauty of its pristine location may be found near the Deccan Plateau's southern extremity in the Western Ghats mountain ranges. The resort is situated at an elevation of 3,500 feet above sea level. The architecture, inspired by Swiss chalets and mixes very beautifully with the coffee plantation it is snugly situated in, offers magnificent views of the surrounding mountains and valleys. Enjoy the rain forest of Wayanad, the wildness of Wayanad Wildlife sanctuaries, the gorgeous lakes and waterfalls, the climb of spectacular mountains, and the serenity and tranquillity of the Western Ghats during your time in Wayanad. The incredible Morickap Resort is a top-rated five-star hotel in Kerala, India. It is known for its luxurious villas, each with a private pool.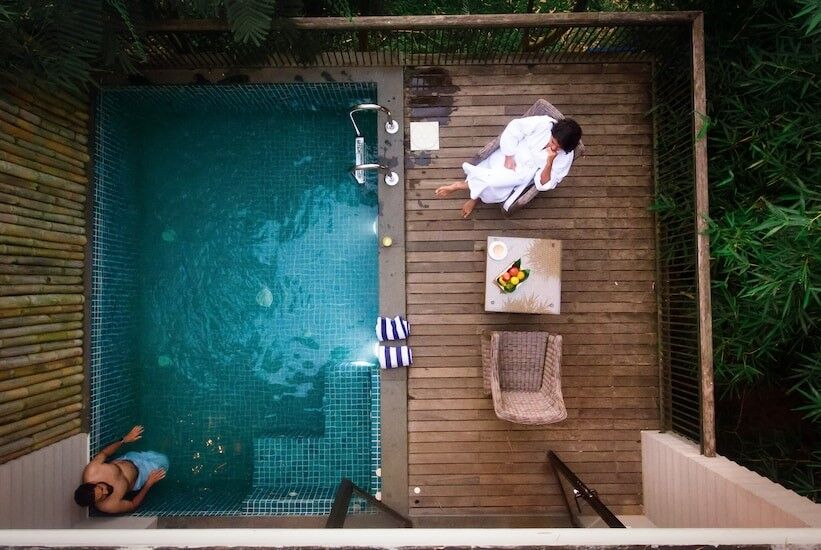 A tranquil and secluded area where you may indulge in the luxury of submerging yourself in the waters of your private pool while taking in the breathtaking views of the surrounding mountains and plantations.
It has a bedroom with an attached bathroom, a living space, and a terrace, and it's both charming and roomy.
An attractively crafted sanctuary that exudes perfect tranquilly and coolness throughout its whole. A luxurious pool that spans 3,250 square feet provides the ideal setting for unwinding.
Important Information & Links
Contact information:- +91 9972788305
Address:- Morickap Resort
Website:- https://morickapresort.com
link for tripadvisor:- https://www.tripadvisor.in/Hotel_Review-g2295130-d15239551-Reviews-Morickap_Resort-Vythiri_Wayanad_District_Kerala.html
Conclusion
Just staying in a private villa is one of the few activities that may be considered more opulent and indulgent than doing so. At these five India resorts, you may indulge in a variety of luxurious amenities, such as private plunge pools, one-on-one spa sessions, and elegantly decorated suites, among other things. Suppose you and your significant other want to revitalise your relationship by spending a few days at a resort with a climate-controlled infinity pool. In that case, the following list of resorts is sure to provide you with an experience that will be unforgettable for both of you for the rest of your lives. Maintain the radiance of your wedding day and commemorate the beginning of your beautiful relationship with picturesque vistas, attentive service, and sumptuous amenities.
Facebook comments: ManaHotels